5th RRPG International Conference 2014
5th RRPG International Conference and Field Study 2014
"Managing Rural Change in Turbulance World: Towards a Resilient and Sustainable Rural Society"
Bangi and Kampung Peruas Malaysia, 26-28 August 2014
The 5th RRPG International Conference and Field Study  was held by Universiti Teknologi Malaysia (UTM) and Institute for Rural Advancement (INFRA) Malaysia, in Bangi and Kampung Peruas, Pahang, Malaysia on August 26-28, 2014.
About The Conference
Over the last few decades, rural development has undergone several stages of transformation. An early focus on development was related to the traditional view that development means economic growth, focusing on increased productivity through modernization of the rural sector. Acknowledging that growth was often accompanied by inequality leads to a concern with distribution and social justice. This necessarily emphasizes meeting basic needs of the deprived groups. In the current debate of rural development, the notion of community resilience becomes a new focus in development literature. The concept of community resilience attempts to understand how people respond to internal and external disturbances, whether they are anthropogenic disturbances (human induced) or natural disturbances (i.e.a natural disaster).With the advancei of globalization and the urgency of responding to climate change, there is an urgent need to prepare rural communities to face the threats of both sudden and gradual changes and/or challenges and adopt the development pathways that are conducive to poverty alleviation and innovative uses of natural and human resources.
Conference Objectives
To discuss current issues pertaining rural development and sharing experiences from various countries.

To look into the extent to which rural development policies and practices in the developing world have effectively addressed transition towards greater resilience and more sustainable development.

To share the best practices and experiences in managing and implementing rural change and the improvement of the quality of life and nurturing a development pathway that increases resilience and the sustainability of communities.
Conference Themes
There were 32 papers presented in the conference, which discussed in four panels i.e.
PANEL 1: Rural Governance, Planning and Policy

PANEL 2: Sustainable Rural Economic Development and Practice

PANEL 3: Rural Culture and Community Resilience

PANEL 4: Rural Sustainable Project Experience and Case Studies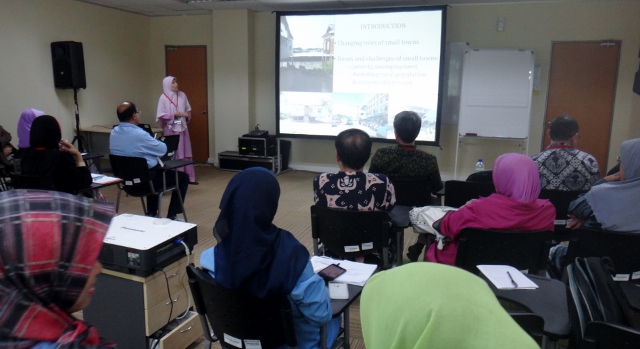 Participants
The conference in INFRA, Bangi on August 20, 2014 was attended by about 184 international participants from 19 countries. They were from government institutions, university members, NGOs, privates, community representatives. While the field visit was followed by 45 participants.
Organizers
The main organizers of conference were CIPD University Teknologi Malaysia-UTM, and Institut for Rural Advancement – INFRA KKLW Malaysia. 
It was supported also by some other institutions from Malaysia and Indonesia.
Malaysia: Universiti Sains Malaysia – USM, Sultan Ahamad Shah Environment Trust, Felda, and Community of Kampung Peruas
Indonesia: Universitas Diponegoro- UNDIP, Universitas Islam Bandung-UNISBA, and Institut Pertanian Bogor – IPB
 Activities
The conference was held on Tuesday August 26, 2014 that launched by Chief Secretary Datuk Seri Ibrahim Muhamad as representative of Minister Datuk Seri Mohd Shafie Apdal Ministry of Rural and Regional Development Malaysia. It was started by planery session with speakers from KKLW, and FELDA Malaysia, and IPB Indonesia. The afternoon session was four paralel panel sessions. The conference was closed by Resolution presentation by Prof. Ibrahim Ngah, and closing speech by Deputy Minister of Rural and Regional Development YB Datuk Alexander Nanta Linggi.
The field visit was established in Kampung Peruas in Lurah Bilut, Perak. The village is famous as a model for success rural development in Malaysia. The local community in Kampung Peruas has managed the tourism program that utilize the local natural resources of river and forest, and homestay. Almost every year the village got award of village development. There were 45 RRPG participants followed the field visit. The participants participated in the cleaning riverbank area and forest tracking program. Thanks to Saset, which facilitated the pogram activities while in Kampung Peruas.
High appreciation to the conference committee of UTM and INFRA, all supported persons an institutions from USM, SASET, UNISBA, UNDIP, IPB, as well the whole participants of 5th RRPG International Conference and field visit 2014. Hope all the activities are benefecial and improve the RRPG network.
 The next 6th RRPG meeting will be hosted by Institut Pertanian Bogor – IPB in Bogor by September 2015. 
Photo gallery of conference at INFRA, Bangi, and field visit in Kampung Peruas, Perak.